Quarry Oaks
16600 Quarry Oaks Drive
Ashland, Nebraska 68003-3820

Golf Shop Phone: 402-944-6000
Food and Beverage Department: 402-944-6004
Fax: 402-944-6006
Quarry Oaks is located just two miles southeast of Interstate 80 and Mahoney State Park in Ashland, Nebraska. Adjacent to the Platte River, and situated between Lincoln and Omaha, Quarry Oaks is easily accessible from anywhere in the Heartland.
IMPORTANT NOTE: IF YOU ARE CURRENTLY USING A GPS SYSTEM, THE MAPPING HAS NOT BEEN UPDATED AND THE DIRECTIONS WILL BE INCORRECT AFTER YOU ENTER OUR ADDRESS. PLEASE USE THE DIRECTIONS WE HAVE PROVIDED BELOW RATHER THAN USING YOUR GPS.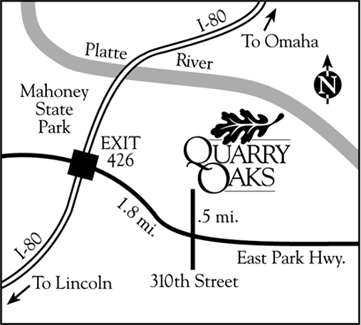 From Omaha/Des Moines:
I-80 west to Exit 426 (Ashland/South Bend)
Tum left off exit, heading southeast on Hwy. 66 for 2.5 miles.
Tum left onto Quarry Oaks Drive to proceed to clubhouse

From Lincoln:
I-80 east to Exit 426 (Ashland/South Bend)
Tum right off exit, heading southeast on Hwy. 66 for 2.5 miles
Tum left onto Quarry Oaks Drive to proceed to clubhouse

From Sioux City/Sioux Falls:
I-29 south to I-80 west
I-80 west to Exit 426 (Ashland/South Bend)
Tum left off of exit, heading southeast on Hwy. 66 for 2.5 miles.
Turn left onto Quarry Oaks Drive to proceed to clubhouse

From Kansas City:
I-29 North to Exit 10 (Nebraska City-Hwy. 2)
Tum left off of exit and follow Hwy.2 west to Hwy 50.
Tum right onto Hwy. 50 north. and follow to Hwy 66.
Tum left onto Hwy. 66 and proceed west through the town of South Bend.
Tum right on Quarry Oaks Drive (approx. 1 mile from South Bend)